Training local authorities
After months of developing specific training programs, the Efus-led Secu4All project has begun to train local and regional authorities from 6 European countries on how to design and manage safe urban environments. The training and exchange of expertise aim to promote a partnership approach to urban security. Local actors following the Secu4All training gain knowledge and practical skills on how to better anticipate and prepare for potential future threats. They also learn how to improve coordination of the necessary actions between multiple stakeholders. Specifically, Secu4All has developed four interactive training modules composed of online sessions and on-site practical exercises across the following dimensions:
Vulnerability assessments
Urban planning, design, and management for urban security (UPDM-US)
Crisis management communication
Technologies for security in public spaces
DSP-groep is responsible for the second module. As we speak, Paul van Soomeren and Kaya-Malin Franke are preparing to give their next online training on reducing crime and citizens' feelings of insecurity by means of urban planning, design and management of public spaces. So far, they delivered successful and well-received virtual training sessions for local actors from Germany, Latvia, and Spain. The next training sessions will be held for local actors from the Netherlands, Italy and France.
Key components training module on UPDM-US
In their training module, Paul and Kaya give an overview of the definitions, history and terminology used in the field of UPDM-US. Secondly, they teach how to apply basic UPDM-US processes and principles to find and develop solutions for local problems. During this part of the training, participants are challenged to critically reflect on urban design solutions by considering the possible undesired consequences. Finally, participants learn how to implement a UPDM-US approach in their own organization or local context. To do so, Paul and Kaya give information on useful instruments and European standards and they stimulate the participants to think about how to reach and motivate other necessary resources, like stakeholders, to get involved in the process.
Would you like to know more?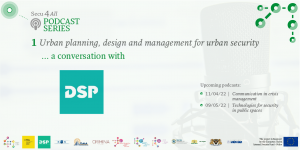 Read more about Secu4All (website)
Or read the flyer (pdf)
You might also like this podcast on Urban planning, design and management for urban security, with Paul and Kaya
Interested in urban planning and security?
Please get in touch with Paul or Kaya for more information.